What We Provide
On a waterfowl hunting trip we will provide:
Hot Fields and Waterholes where the ducks and geese want to be!
Decoys – Full body, water, silhouettes, flags, etc.
Blinds – Layouts, duck blinds, etc.
Expert Calling to get them in your sights.
What You'll Need
During a waterfowl hunting trip you'll need to bring the following:
Firearm –

We advise at least 12 ga. or larger

Licenses – State small game, state waterfowl and Federal waterfowl. You can purchase Michigan Hunting Licenses online.
Clothes –

warm, cold and foul weather clothes in camouflage.

Good pair of waders

for water hunts.

Recommended Shot Size-

Geese

– BB, BBB Steel Shot

Ducks – #2 Steel


*If you are using Heavy shot, you can use #2's for geese and #4's or #6's for ducks
We also recommend your gun to be thoroughly cleaned before the hunt. Nothing breaks a hunters heart more then a gun that won't function when the waterfowl start flying.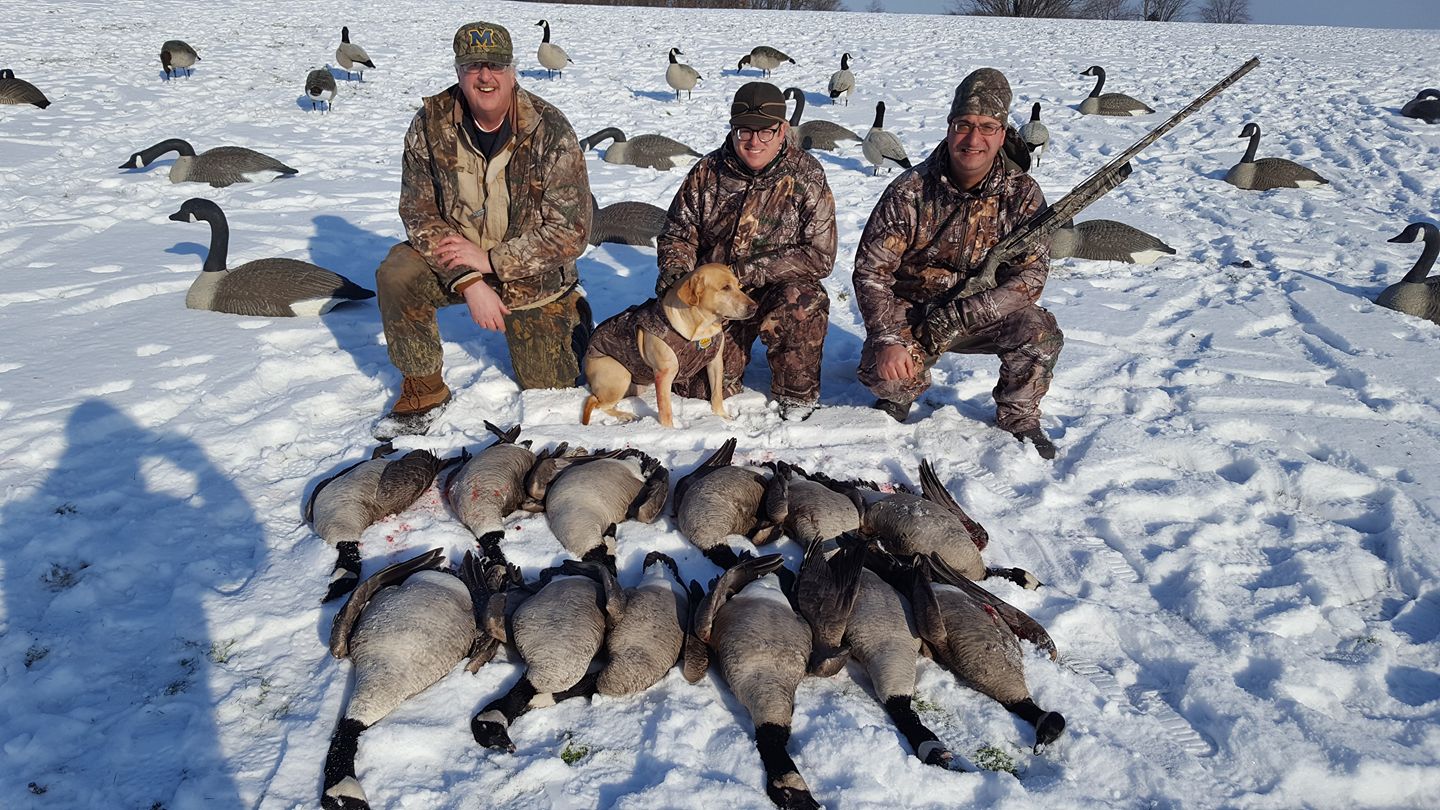 Goose Hunts
Early and Regular Season Goose Hunts
• Weekday – $200 per gun, with $600 minimum
• Weekends/Holidays – $225 per gun, with $675 minimum
Late Season Goose Hunts
• Weekday – $200 per gun, with $600 minimum
• Weekends/Holidays – $225 per gun, with $675 minimum
Opening 2 day Goose Hunts
Opening weekend Early goose and Late goose seasons are $250 per gun with a $750 minimum. This includes the December split.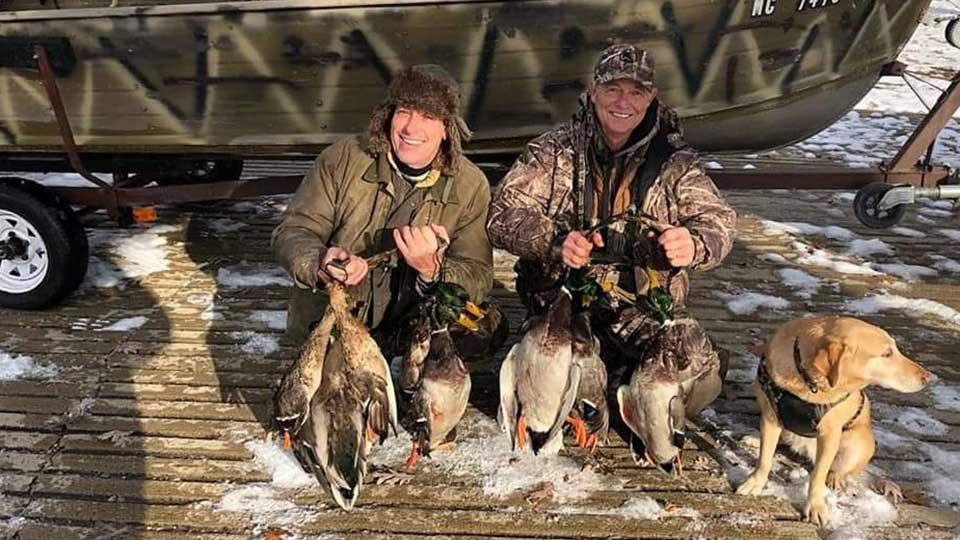 Duck Hunts
Regular Season Hunts
• Weekday – $200 per gun, with $600 minimum
• Weekends/Holidays – $225 per gun, with $675 minimum
Opening Weekend Duck Hunts
Opening weekend duck season hunts are $250 per gun, with a $750 minimum. This includes the 2 day split in December
Specials
3 Day Combo Hunt
3 Day Waterfowl Ducks/Geese Hunt
Exclusive or Private Waterfowl Hunting
Exclusive or Private Waterfowl Hunts
6 gun minimum or pay $1050 during the week and $1200 on weekends if you have less then 6 guns. If more then 6 guns the per gun rate prevails Holiday's or opening days pricing prevails, you and your party will have the hunt to yourselves with the guides and no other hunters will be added. Per gun fee still applies if it exceeds the exclusive price. Call for details.
Corporate Package
This includes local accommodations , an evening dinner with your guide at one of the local eateries. We also can take care of any extra's that you would like. These hunts are $350 per gun for ducks or geese $1400.00 minimum. This is a great way to entertain prospective clients or employee's. These hunts are prepaid only at the time of booking .
Deposits
A 50% deposit on the amount of hunters requested holds your date. 4 weeks notice on any cancellations on hunts are required. If a hunter drops out we need the same 4 weeks notice to be able to fill their spot, otherwise their deposit will be retained. Cancellations with less then 2 weeks notice the whole fee is required and will be deducted from your credit card or added to your bill. Deposits are non refundable. If you have given the 4 weeks notice required or the weather has postponed your hunt, then your deposit can be forwarded to a later date. However, the deposit has to be used within one calendar year to date on another hunt.
5% fee if a credit card is used to pay total bill but not on deposits. Checks or cash preferred
Balance of fee's to be paid before the hunt begins. All prices are cash please add 5% for credit cards
Tips
Tips are not included in the guide fees and are greatly appreciated. If you enjoyed the hunt, it is customary to tip your guide. 20% is generally the norm.
All hunts are AM only unless PM hunts are requested. Hunts generally run from the listed shooting hours in the morning till a limit or Noon. Early season birds may stop flying to fields by mid morning and the hunt may be called at that time. This is up to the guides discretion. Sometimes we do get to the hunting locations quite a bit earlier then the listed shooting hours to get everything set up. These are working hunts, everyone helps. So if the meeting time seems early, that is probably is why.