Salmon Express II
The Ultimate Lake Michigan Salmon Fishing Experience Aboard the Salmon Express II
Discover the thrill of Lake Michigan salmon fishing like never before with the renowned Tiara Yacht – your gateway to a world of angling excitement. Spanning an impressive 31 feet in length and 12 feet wide, boasting a formidable 700 horsepower engine, the Tiara Yacht promises an unforgettable fishing adventure that combines size, power, and comfort. Specializing in Lake Michigan salmon charters, this vessel offers a spacious fishing deck, luxurious mid cabin, and exceptional cruising speeds, all while delivering an experience that caters to both novice and seasoned anglers.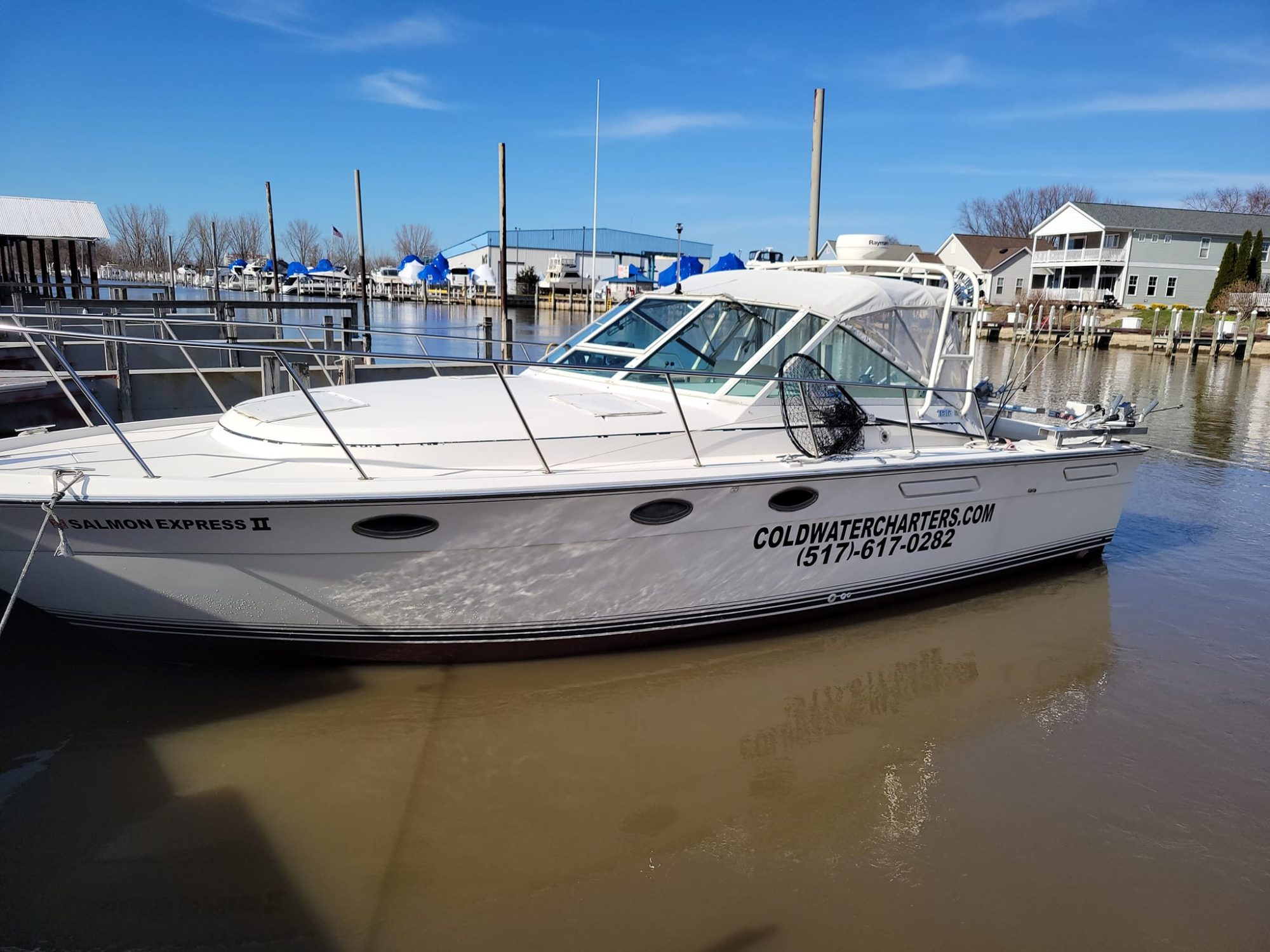 Lake Michigan Salmon Fishing
Step onto the fishing deck of the Tiara Yacht, where angling dreams come to life. Tailored to provide the perfect experience for catching Lake Michigan Salmon and enjoying the picturesque surroundings, this boat sets the stage for reeling in the prized salmon that inhabit the lake's depths. Whether you're a passionate angler or a curious beginner, this deck ensures that every fishing experience is met with comfort, convenience, and the thrill of the catch.
Escape to the inviting mid cabin of the Tiara Yacht, offering a couch and dinette for moments of relaxation between Lake Michigan Salmon Fishing sessions. As we navigate the waters in pursuit of salmon, this sanctuary provides a cozy respite where you can savor the beauty of Lake Michigan's landscapes or recount the day's triumphant catches. It's a space designed to enhance your journey, where comfort and luxury seamlessly intertwine.
High-Speed Cruising Adventure
Distinguished by its impressive speed capabilities, the Tiara Yacht stands among Lake Michigan's finest charter boats in terms of cruising velocity. With this vessel, you can cover more ground, explore farther reaches of the lake, and maximize your fishing time. This exceptional cruising speed offers an advantage, ensuring that every moment on the water is optimized for your angling success.
Book Your Lake Michigan Salmon Fishing Charter
Ready to embark on a Lake Michigan salmon fishing expedition aboard the Tiara Yacht? Our dedicated team is at your service, ready to address your inquiries and facilitate your reservations. Reach out to us via direct phone contact or through our user-friendly online messaging system available on our Contact page. We're here to make your booking experience seamless and your adventure unforgettable.
Gift Certificates for Unforgettable Memories
Extend the joy of Lake Michigan salmon fishing by gifting friends and loved ones with our exclusive gift certificates. Share the excitement of reeling in salmon against the backdrop of stunning lake vistas. A gift certificate from the Tiara Yacht is the perfect present for any occasion. This offers the promise of cherished memories and thrilling experiences.
Conveniently situated at 602 Fishermans Rd in St. Joseph, MI 49085, finding the Tiara Yacht is a breeze. After arriving at the address, proceed approximately 150 yards up the road, passing by the cleaning station. Look out for the distinctive "Coldwater Charters" signs on the dock, and you'll know you're in the right place. Keep an eye out for the captain's black F 250 – an unmistakable marker of your upcoming adventure.
The Tiara Yacht is your ultimate partner for Lake Michigan Salmon Fishing expeditions. With its unmatched features our boat sets the stage for an unforgettable angling experiences. Book your charter today! Get ready to create memories that will last a lifetime on the majestic waters of Lake Michigan.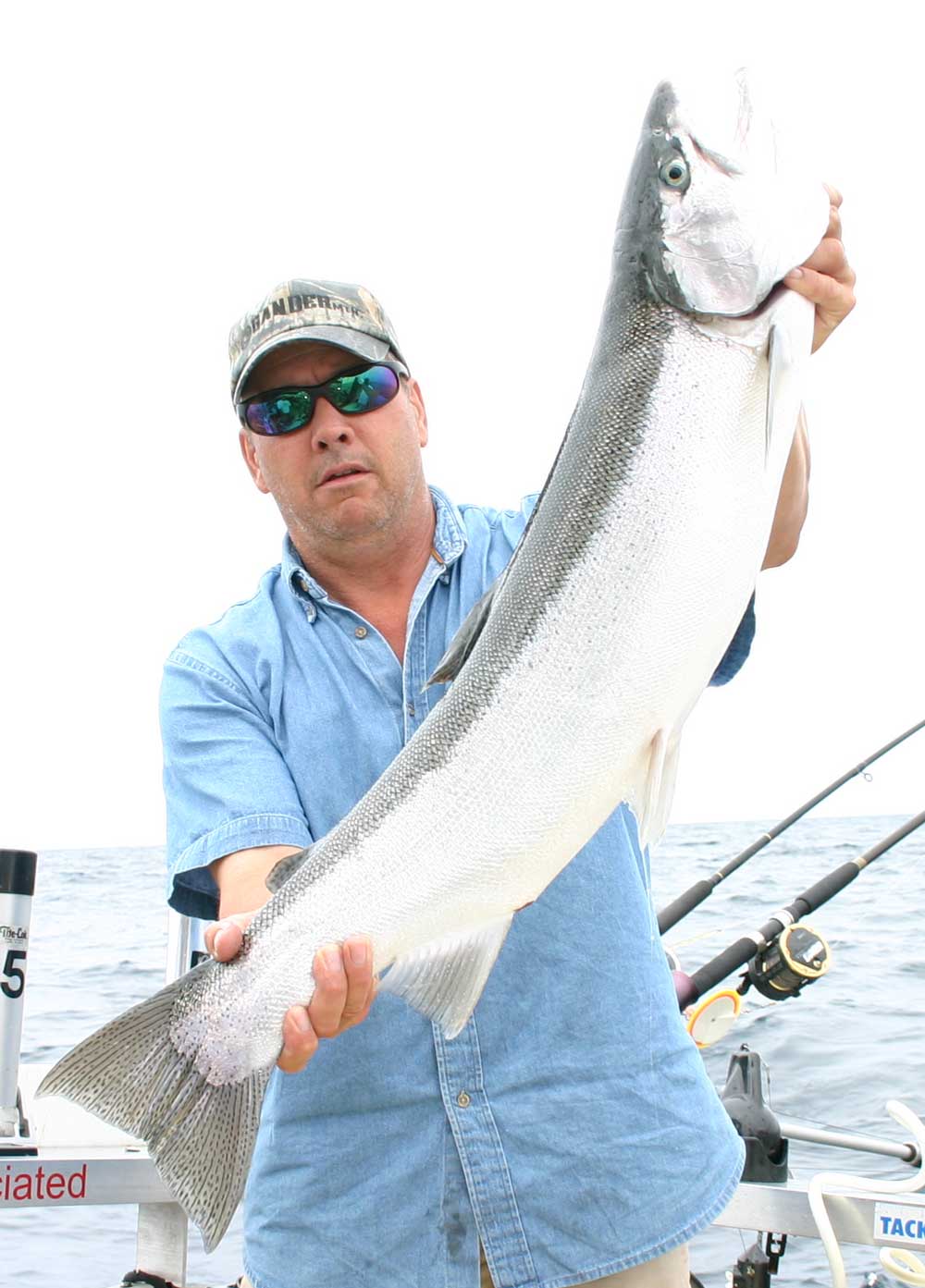 Captain Mike holding a client's 14 pound steelhead